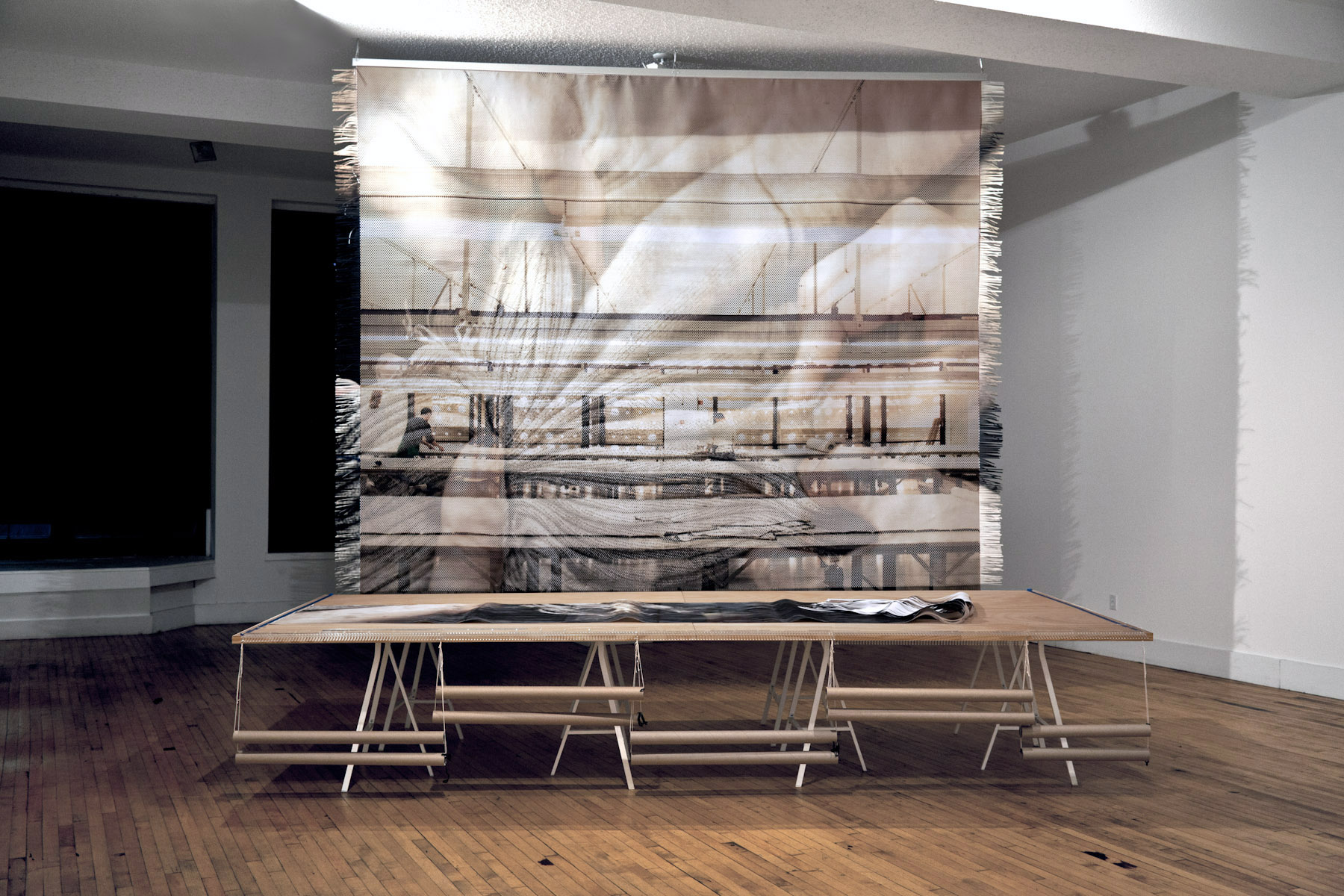 Factory Setting
Textile manufacturing is a complex global phenomenon. Our understanding of the very clothing that we put on each day, where it comes from, how it is made, who it is made by, is veiled within a network of contingencies. These contingencies, ranging from tariffs to labor market trends, dictate not only the final purchase price of each product, but inform a much larger economy of workers, socio-political forces, and even the landscape of contemporary cities. This project is a case study of textile manufacturing as both subject matter and process of making; it examines the trajectory of its industrialization and, by extension, reminiscent of other manufacturing industries such as the auto industry in Michigan. It is a rumination on issues of labor, its inherent values, and the notion of workers, both as individuals and as a collective force.
Drawing upon first-hand experience of the textile industry dating back to childhood, and more recently as a professional in architectural production, Factory Setting: the space of labor, points to the space of production and those who inhabit it. It is a reminder of the value of labor in textile manufacturing, from the material crafting of a learned trade, to the manual labor necessary for clothing production. It attempts to present the invisible value that is part of any garment, but missing from the label or the price tag. It offers a glimpse into the spaces of the contemporary garment factory, foreign to most in this country, but having a parallel in the industrial past that shaped the cities and social conditions that still surround us.
The installation at Edwin Gallery is a custom room-sized loom, that weaves a blended photographic image approximately 14 ft X 12 ft, of the spaces and activities of a clothing factory located in Shantou, China. (Please see project Global Headquarters Lafayette 148 New York). The images used for the weaving are generously provided by the Shanghai-based photographer But Sou Lai. For the duration of the show from August 10 to September 7, 2013, the labor of weaving was performed in the gallery during its opening hours. Visitors were encouraged to engage the author and witness the labor and processes necessary to produce the woven image. The finished weaving was displayed at the closing reception.
Much gratitude to those that were either part of the conversation in the shaping of this project and/or provided assistance with the production, they are; Sue Furrow, Maki Fukuoka, Steven Panton, and Rosalyne Shieh: for weaving: Simon Anton, Rachel Mulder, Toby Millman, Mike Sanderson, and Jamie Colburn.
This project was made possible through the generous support from the A. Alfred Taubman College of Architecture + Urban Planning, University of Michigan.